Co-Mo Connect celebrates 20,000 subscribers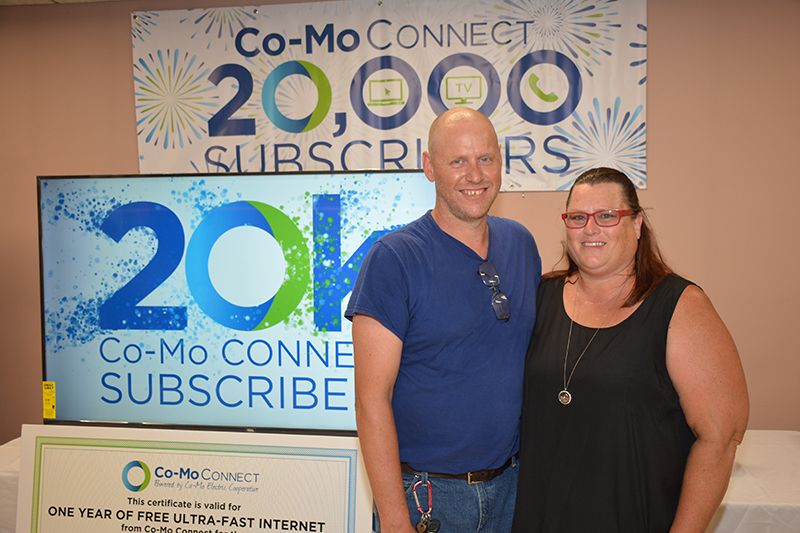 Tipton, Mo. (June 23, 2020) — Co-Mo Connect Powered by Co-Mo Electric Cooperative recently celebrated the milestone of reaching 20,000 broadband service subscribers.
"We are very excited to hit the 20,000-subscriber milestone," said Co-Mo CEO Aaron Bradshaw. "Our mission at Co-Mo is to improve the quality of life for the region we serve, and we are proud to be able to provide our broadband services to so many people in our rural community."
On the afternoon of June 22, Charles and Shannon Donelson of Gravois Mills arrived at Co-Mo's Lake District office with their three grandchildren and were recognized as the lucky 20,000th subscribers. The celebration began with a welcome from Chief Operating Officer of Broadband Services John Szymanowski. Attendees included Co-Mo's CEO Aaron Bradshaw, Co-Mo Board President Gene Eulinger, Co-Mo Board Members John Schuster and Bill Betteridge, 50th District state Rep. Sara Walsh, state Sen. Dave Schatz and a large group of Co-Mo employees.
Co-Mo presented the Donelson family with an Amazon Echo smart speaker, his and hers Amazon Fire tablets, three Amazon Fire Kids Edition tablets, a 75-inch TCL Roku TV and a free year of Co-Mo's 1-gig ultra-fast internet package.
To watch a video highlighting the celebration, visit Co-Mo Connect's Facebook page at www.Facebook.com/CoMoConnect.