Co-Mo Connect HALO Streaming TV Packages
Set Your Perfect Streaming Lineup!

Co-Mo Connect's HALO streaming TV service introduces you to the new age of multi-device streaming! Whether you watch on your smartphone, tablet, TV, laptop or desktop, Co-Mo Connect HALO gives you the freedom to watch how and when you want in the comfort of your home!
Learn More
Cloud DVR
No equipment needed! Simply set and record in the Co-Mo Connect HALO app!
100 Hours – $5.00
200 Hours – $7.95
300 Hours – $9.95
Sign Up NOW!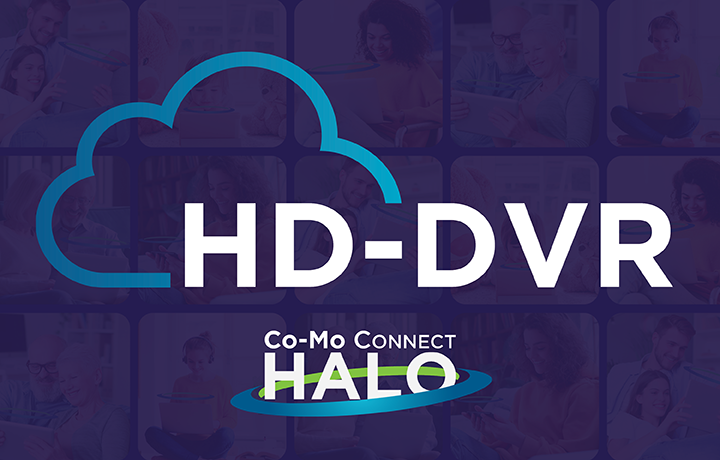 WHAT DEVICES/BROWSERS ARE COMPATIBLE WITH CO-MO CONNECT HALO?
For TVs and large screens:
Amino Amigo Set-top Box (CALL NOW! 844-99-FIBER)
Amazon Fire TV Stick (4K)*
Amazon Fire TV Cubes
NVIDIA SHIELD retail TV boxes
Xiaomi Mi TV boxes
* Amazon Fire TV 4K Max and Fire TV Stick Lites are not compatible.
Apple iOS devices:
iPhones (iPhone 5 and higher)
iPad (iPad 3 and higher) with iOS 11 or higher
Android devices:
Most Android brands of smartphones and tablets with Android OS versions O, P and Q
Desktop/Laptop Computer Web Browsers:
Google Chrome (version 49 or higher)
Safari (version 10.1 or higher)
Minimum computer requirements: Windows 7 or Mac OS X version 10.10.
NOTE: Co-Mo Connect plans to add other devices in the near future. Please keep checking back to see if a device you are interested in will be added.
More App Features
Create a Package to Match Your Needs
No deceiving rates
Straight-forward and honest pricing for amazing service
Create your own bundle to match your needs
Pick any 2 services (Internet, TV or Phone), and receive a $15 monthly bundling discount
Get all 3 services and receive a $35 monthly bundling discount
Sign Up TODAY!